Nilina: I spend the bulk of my time traveling, day-dreaming, writing, listening to music and scrolling endlessly through the internet. Outside of making crafty items, I'm essentially a full-time freelance writer and photographer mostly covering lifestyle topics like music, cocktail culture, fashion weeks and other travel stories. I'm always in search of an adventure, whether it be navigating a new trail or partaking in some kind of epic international exploit, often with little to no plans until I arrive (ie my Cuba trip in the spring), which works both to my benefit and detriment and always keeps things interesting. 
I've also been indulging in my love of acting lately by popping up in the background of all sorts of shows like Criminal Minds, Blackish, Scandal, Extant and more plus honing my screenwriting game on set in between takes with the hope of breaking into that realm at some point. Other than all that, I love grocery stores and find them to be the most zen place in the world. I also have an insatiable obsession with celebrity gossip and find myself checking online gossip outlets more frequently than my own email!

QB: How did you get started with crafting? What was your path to your current craft projects?
I started making crafts as a kid. In elementary school I made and sold friendship bracelets on the playground in custom colors and graduated to making custom bookmarks of favorite animals and celebrities while in middle school and eventually Beanie Babies accessories like sleeping bags during that whole craze. By high school I finally started selling through brick and mortar shops on Hawthorne after I began making beaded bobby pins. I never had much money, but always had the ability and interest in making things, so the bulk of the gifts I would give and things I would trade would always be handmade by me. I also like to stay busy and use my hands, plus I'm a sentimental/nostalgic person, so making physical items feeds all those desires.
My current Portland items came about as I was getting ready to depart Portland and wanted a way to preserve everything I love about the city through illustrations. I came up with the phrase "Portland on My Sleeve" - Portland is in my heart and I proudly wear it on my sleeve. It actually started as a website but morphed into a line of totebags and eventually the buttons, postcards and keychains of today.
Outside of the Portland items, my projects are all over the board and are mostly inspired to fill a need for myself such as I wanted a fox scarf so I made it myself. I also am always on the quest for unique and value self-expression, so making things myself takes care of all that. Right now I'm really into stepping as far away from mass-produced items that I'm starting to make my own clothes, which has kind of been the last frontier for me. I'm starting to print and dye my own fabrics and take sewing classes. Obviously I sew loads of scarves and I've made some shirts for myself without a pattern, but I really want to hone the skill further. The dream would be to have my own small flock of sheep and be able to spin wool myself on a plot of land in Portland, so here's to that!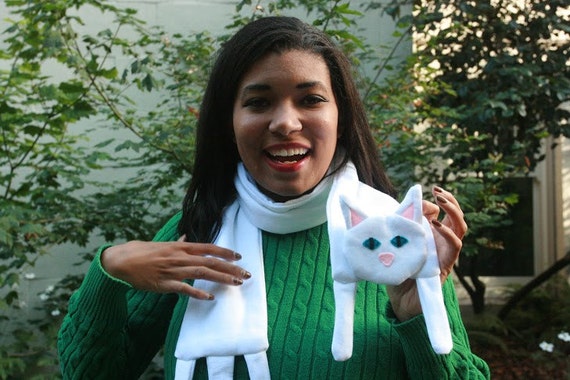 QB: Your animal scarves are a QB favorite. What's the story behind them?
I came across a pattern for a knitted fox scarf and while I can knit, I can't follow patterns to save my life. What I can do is sew. I had a Fred Meyer newsprint ad lying around, so I cut it up in shapes that I thought resembled a fox's body and then got to work. I intended to only make it for me, but the first time I wore it, I got an offer from someone who bought it right off me, so I made another for myself and a couple others to see if they would sell. They sold within the first week and the rest is history! I've added a few new animals to the menagerie at the request and suggestions of others over the four years I've made them.


QB: Your Portland-themed pieces are a favorite of visitors and locals alike. Your work reflects a deep familiarity with and affection for Portland. What is your history and connection with the city? What do you love about Portland?
I grew up here and I would have to say I love everything about this city! In terms of the US, I don't think it can be beat in terms of the relaxed lifestyle, accessible wilderness, environmental awareness, mass amounts of creative energy and people who create and then perhaps most important of all, its ability to attract such genuine good people. I travel a lot and also skip out to other cities to live for a while, most recently LA and I just feel like no city can touch the quality of people that filter in and out of Portland. Even while abroad I tend to connect with Portland people. There's a kindred-spirit current that runs throughout. Portland really reflects my values as a person and I really appreciate being able to connect with others who share the same.
Anyway, as I mentioned previously, I'm a very nostalgic and sentimental person. I like to honor my history and make things that reflect what made me. I love going on bike rides and walks throughout Portland because they always connect to a childhood memory and I treasure those above all. Walking through the Buckman neighborhood, I'll remember a quirky British woman who I used to pass on the way to swim lessons who kept her cats on leashes. Especially in a city changing as rapidly as Portland, it's nice to hold on. I grew up primarily on 34th and Yamhill in SE and I remember a time when we'd find broken glass bottles and used needles in our garden before Utopia cafe moved in and the neighborhood began changing. That part of Belmont is definitely not that vibe anymore! I appreciate having experienced the contrast. I remember being 4 years old and seeing rowhouses burning to the ground when we lived in NW, set alight in protest to developers and gentrification. It's interesting that that was 1989 and here we are now. Right now I'm staying in a sublet in NE that's super close to my middle school so many of the streets are familiar and I can retrace the paths I used to walk to go home, go grocery shopping, to Laurelhurst Theater for my 7th grade birthday party (we saw Armageddon), etc. I love all the layers of memories I've been able to build in the city from early childhood to adulthood through the lens of various groups of friends, family, romance and solo exploration. It's interesting to look back, but know you're building something new at the same time.
QB: I always love hearing about your latest travel adventures. How does travel shift your creative perspective?

I try to live my life like I'm in a children's book come to life or like I'm writing a story with every step and that all plays into keeping my imagination and creativity not only intact, but well fed. A childlike spirit is the most valuable thing I've managed to maintain through growing up and every new country is like a new chapter.
I went to Mexico City for the first time earlier this year and it was like a revelation. The aesthetics are so me with all the color and paper crafts. Seeing decorations in the streets was like music to my ears. Going to Japan at the tail-end of last year invigorated my love of illustration by seeing how universally its used there. I always thought the cute Japanese stickers and accessories we see over here was as if that's all they decided to import: only the cute stuff. Then I landed and realized it's all cute! Everything! Serious information about health risks? Slap the cutest animal on there and call it good! Directions? Welcome sign to a new city? Cute illustrated animals and marine life, check and check. It seems so much of the media incorporates some level of cute illustrations and it's not only aimed at kids, which makes me happy because my items are for all ages too!
QB: People have really been asking about a Tilikum Crossing button! Any plans to grant the wishes of bridge button completists?
Indeed! It's definitely been on my mind! I decided to wait until it's open, until I can experience it for myself before I make it come to life with a pen on paper. All my buttons reflect my own relationship with Portland so I wanted a chance to develop one with the bridge before tackling it. The public preview was a little too crowded to get the full experience, but everything changes come
September 12th
!
Nilina sews a panda scarf at a drop-in sew café in Paris.
QB: Anything else you'd like to share?
I've been working on a new collection of Portland items, that I am hoping, hoping, hoping I can launch in time for the Christmas season. I am so, so excited as the concept is near and dear to my heart and the different types of items I'm planning on are ones I've wanted to tackle since I began with the buttons. So stay tuned!! I'm also looking to draw up other cities I've spent significant time in, like Seattle, San Francisco, Austin, Paris and Berlin, so hopefully that's just around the bend too!